Listlessly Listening for List-making (2017 Year In Review)
I didn't hear enough new music this year. This statement would be true in any year (it's a compulsion, after all), but 2017 was truly one of those years where with everything going on in my life (changing cities, job-hunting, writing more, starting a blog, etc) and in the world (uggghhh) I found refuge and comfort in older releases more than I invested time in newly-released albums. This is the sort of thing that just sometimes happens, to be sure - while I know there were a lot of great albums released this year that I didn't hear, I can at least look forward to (hopefully) discovering them down the road.
All this to say: if you're here for, like, a real and quantifiable LIST, you're probably going to be disappointed. With this year being what it was for me, I don't feel justified in compiling any kind of numbered amalgamation that is in any way definitive or comprehensive. Perhaps 2018 will be the year when Re-Critic can throw its hat in that ring and join in the conversation (a conversation that sometimes devolves into an annual indie-kid shouting match). For 2017, the one thing that I feel like I can actually do is a bit outside the parameters of normal "list-making" - my thought is to discuss some albums released this year and how/why I resonated with them as a listener. Since a critical evaluation of the listening experience is kind of my bread and butter and a large part of Re-Critic's mission statement, this feels like a logical step. While not a "list", you may still be moved to check out something you hadn't thought to before, or maybe you'll take another look at, or listen to, a 2017 release you were lukewarm on initially. Or maybe you'll just enjoy reading it…? (Honestly, I can never tell how these things will go down.)
A couple disclaimers before we get going.
1) It is highly possible that your AOTY is not discussed below. This isn't meant to be a slight, necessarily. It is more likely that it is one that didn't get its proper due (see above). If you feel like my error is extremely egregious, feel free to let me know in the comments. I will definitely take it to heart and either listen, re-listen, or let you know why I didn't see it measuring up.
2) Remember, this is all one person's opinion. If it made everyone happy, I wouldn't be doing my job.
Now that all that is out of the way…
IDLES - Brutalism
King Woman - Created in the Image of Suffering
Protomartyr - Relatives in Descent
Queens of the Stone Age - Villains
- It was a good year to be pissed off, hurt, angry, ominous, heavy, and dissonant, or to just sound like you were any combination of those things. I mentioned in a recent piece that Idles put out my favorite punk album of the year, and I stand by that. Brutalism is exactly what it sounds like, a savage piece of confrontational punk that leans heavily into political commentary and breakneck instrumentation. But what makes it truly great is that Idles has a real gift for creating catchy melodies and hooks - a lesser band would stop at the raw brutality of the sound and call it a day, but Idles doesn't quit until they've created songs that are as good at getting stuck in the ear as they are at making you throw up a fist. Closer "Slow Savage" is a "Goodbye Horses"-type respite whose eerily sleepwalking quality concretes the album as something more than just punk rock violence.
- Detroit's Protomartyr brought a similarly dedicated ethos to a more post-punk style of music with Relatives. It is genuinely affecting all the way through and makes a case for them as one of the brighter talents in an Olympic-sized pool of JoyDiv acolytes and Television LARPers. The production accentuates the lower end, making riffs land with a thud, and Joe Casey's lyrics do the opposite, soaring with abandon, "Truth is the half sister / she's trying to reach you…"
- King Woman released Created early in the year and it exists inside a bit of a touchy Venn diagram for fans on two different sides. Metal fans may find it too soft to kick proper ass, and rock fans may find its grinding guitars and doom metal methodology a little much for casual listening. For me, it is a perfect example of what metal can achieve when not constrained by the rigidity of blind purism. Kristina Esfandiari confronts her struggles early in life and uses gothically religious imagery to evoke not only pain and suffering, but also the strength to not be defined by the past, resulting in a torch song LP that crystallizes at its high-water mark "Heirophant" (linked in playlist below).
- The more things change, the more they stay the same, as evidenced by Josh Homme's triumphant return with QOTSA. Since …Like Clockwork, Homme has been busy with appearing on work with Arctic Monkeys and producing Iggy Pop's return to greatness (among many other things), but Villains sees the crew stepping out on stylistic and creative limbs to both ratchet up the keyboard quotient and hand production duties over to Mark "Uptown Funk" Ronson. The result is, perhaps surprisingly, not only a strong album, but a strong Queens of the Stone Age album - and that is a pretty high bar. I'll admit I took a minute to warm up to it, but now that I've seen the light I am not sure if I can think of an album in the past several years that is more brazen, rocking, and dark-hearted fun. Does it scale the mountainous peak set forth by albums like Clockwork and early-career masterpiece Songs for the Deaf? Probably not, but it is a tighter and more cohesive listen than either and fits well beside both of them in the band's catalog. Check out "The Evil Has Landed" (linked in playlist) as a case in point.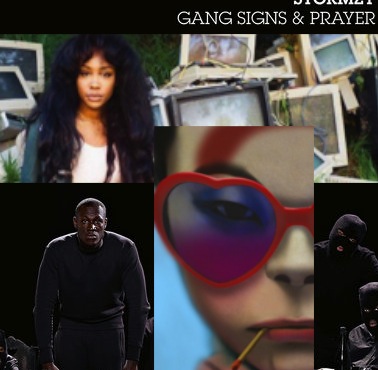 Stormzy - Gang Signs & Prayer
SZA - Ctrl
Gorillaz - Humanz
- While DAMN. was dominating headlines this year (rightfully so, it's a fantastic album), some other sounds were brewing in rap. Stormzy's Gang Signs really threw me for a loop and kept me hooked over the spring and early summer. Was it the 2-Step- and UK Garage-inspired beats? Sure, there was a bit of nostalgia for the 90s there. Was it Stormzy's undeniably strong flow? Yeah, he's good - while his word choice could sometimes use work, his rhyming ability and gruff delivery are always on-point. But what really struck me about this album was how well, and how much, it managed to encapsulate its title - Gang Signs & Prayer isn't just a clever name, it is legitimately a description of the content. The first half or so is rap, and it's done well (as noted), but the back half of the album really opens up into R&B and Gospel in a way I could not have seen coming. And Stormzy wisely keeps the features sparse - only a handful of other voices get involved, which keeps the effort more focused overall. I don't often fully engage with hip-hop (a flaw I'm working on), but this album made me very happy that I spent time with it.
- SZA came on like a freight train with Ctrl, an album that is empowered while also making use of a lifetime spent in the shadow of other artists and that of males in a more general sense. Solána Rowe steps into the spotlight as a fully-formed personality and a world-class vocalist and songwriter. My knee-jerk reaction was to paint her work with a Frank Ocean brush, but to do so would be dismissive of her singularly captivating persona. Underestimate SZA at your own peril, she is on her way to being one of the most important voices in R&B. Next time, I won't be taken by surprise.
- Not to get all tautological, but Gorillaz are Gorillaz. They are as easy to identify sonically as they are difficult to define musically. I honestly found Humanz to be a bit of a middling effort, but I include it here because I found a lot about it to enjoy and because I think what Damon Albarn and Co. have achieved overall is beyond remarkable: a "band" that is not really a band with the ability to flow between dozens of musical styles, sell out arenas without having physical members, and build an entire world of pop-culture branding based on conceptual art and subversive ideas. I realize that my 1998 may be showing here, but I can't help but be impressed by their continued ability to recruit top artists and stay exactly as relevant as they want to be in an era where continued relevance is both near-impossible to achieve and a liability in its own right, as it can be the first step toward being gotten over by a society that sometimes fetishizes novelty at the expense of longevity. Here's hoping for #6albumsandamovie - what other act could deliver on that?!
Japanese Breakfast - Soft Sounds from Another Planet
Mount Kimbie - Love What Survives
Rostam - Half-Light
- It just so happened that I had only recently been introduced to Japanese Breakfast by a friend at the beginning of 2017. When I couldn't get "Heaven" out of my head, I progressed all the way into Michelle Zauner's 2016 J-Brekkie debut Psychopomp and found it to be a whimsical and shoegaze-y work of immense charm and nigh-uncomfortable levels of honesty. Naturally, I went into Soft Sounds expecting more of the same, but instead Zauner delivered something more adventurous, a finely and meticulously-crafted electro-pop LP that nearly but not quite doubles as a concept album about futurism and space travel. The difference in tone does nothing to dilute the quality of the songs, as each track shines with both her unmistakable vulnerability and her elegantly melancholic melodies. Soft Sounds braves the unknown in order for the artist to display her own humanity, and it is a brilliant piece of work in a number of ways.
- Love What Survives strikes me as almost more of a musical map than an album, and to understand that analogy you don't have to go any deeper than its opener "Four Years and One Day" (linked in playlist) - the track begins with an ethereal and watery dream-drone blinking in and out of existence, then an island of melody begins to bubble up from beneath its surface. Drums kick in around the one-minute mark, creating an archipelago of rhythm, a place where the beeping chords can ricochet and bounce like a weather system. Then a post-punk bassline cuts through like a continental shelf, giving the surrounding landmarks something massive around which to belong. Finally, the whole thing is overtaken in a tidal wave of harmonic feedback. If genre-bending were itself a genre, Mount Kimbie would own the market - a constantly engaging and surprising listen made all the more ebullient by its murderers' row of collaborators that includes James Blake and King Krule.
- Depending on your opinion of Vampire Weekend, the prospect of a solo project by one of its masterminds might be delightful or torturous. I personally took a long time to come around to the land of the VW faithful, remaining staunchly unconvinced until 2013's Modern Vampires of the City. But even so, I was always a fan of Rostam Batmanglij's other projects and collaborations, including work with Discovery (alongside Wesley Miles of Ra Ra Riot) and Hamilton Leithauser of The Walkmen. Half-Light doesn't disappoint. While there is definitely some Vampirism at play (see "Bike Dream"), the majority of the album is dream-pop of the highest order that can either fade into the background or be a challenging and textural listen, depending on how much of your attention you want to give it at any given time. Full of immaculate stringed instruments and all manner of deft production, Half-Light showcases an artist unafraid of experimentation and unwilling to compromise.
Emo (for lack of a better generalization)
Brand New - Science Fiction
Swordfish - Rodia
TWIABP&IANLATD - Always Foreign
- I am conflicted in my appreciation for Brand New's latest, and most likely final, album. While the album dropped way back in August, a surprise release that delighted and confounded fans in equal measure, Jesse Lacey's skeletons came out of the closet to haunt him by the end of the year: allegations of sexual impropriety led the singer to release a conciliatory statement and the band cancelled the remainder of their European tour dates. I am not going to beat any dead horses here, I am just going to say that I appreciate Science Fiction for what it is: it doesn't reinvent any wheels but it showcases all the things the band has done well over the years and it follows some rewarding new paths that they have never traveled before. It's not an endorsement of predatory behavior, it's more of a separation of art from the artist - which admittedly is a distinction born of convenience for me personally, and also a very difficult one to square in this case since the art so closely mirrors the accusations (i.e. taking advantage of the romantic feelings of women, etc). Yes, my enjoyment is diminished now, but not to the point where I can claim this album didn't affect me this year, before all that. Go ahead and @ me, I can take it.
- Michigan's Swordfish released one of the more dramatic emo albums of the year with the deceptively unassuming Rodia. The playing is tight over the album's economical runtime and the lyrics are often self-effacing and imminently singable, if not shoutable. While the production leaves a little to be desired - some of the sizzle and crunch is missing around the edges of the sound - it's the feeling that counts in this style of music and Swordfish deliver the goods. Check out "Wash" (linked in playlist), and relive every bad break-up ever in three-and-a-half minutes of nervously cathartic energy.
- Oh, hi TWIABP, we were just talking about you… Always Foreign is a pronounced step forward for TWIABP in terms of songcraft, an album full of enthusiastic heights and commiserating depths that always feels like it has its hand on your shoulder for emotional support. Whether promising to make everything "a story of love" or wondering if America's moral bankruptcy will spell its ultimate end ("Can you still call it a country / if all the states are broken?"), TWIABP is constantly striving for something better and waiting patiently for most of us to catch up. Listening to Always Foreign is a welcome reminder that the problem often lies in the world's plethora of failing systems, and not in your own head. They're here for you, and for all of us.
Kevin Morby - City Music
Spoon - Hot Thoughts
Six Organs of Admittance - Burning the Threshold
Strange Ranger - Daymoon
- City Music's promotional material includes Kevin Morby's thoughts on how to properly navigate cities: "…my map is no map. Head into the city and let it do the work…" Morby takes this logic to the extreme and creates a work that is not inspired by any one city, but instead inspired by the act of living and being in an American city. It is a different thing than being alive in a rainforest, or on a farm, or in a research lab in Antarctica, and he makes cases for the good and bad inherent in the proposition, while also examining himself as one of the city's characters ("I never was someone you'd want to meet"). City Music might well hold up over time as a touchstone indie document of the urban millennial folk-rock experience in the 2010s, but it is a fun and layered listen in its own right without the weight of all that scrutiny. And if you don't want to hear the balladeering architect of Singing Saw pay more-than-convincing tributes to the Ramones ("1234") and The Germs ("Caught In My Eye"), then you and I have nothing to talk about.
- Spoon gonna Spoon, y'all. I mean, what else can anyone say about one of the best bands working today? Volumes have been written at this point about how "Spoon-y" they've always managed to sound while decidedly making songs and records that push the envelope and are distinguishable from one another, each a further evolution, each newly widening the band's scope. Even more volumes have been written about how Britt Daniel is a lyrical and vocal genius and how the band are perfect foils to each other, teasing out gorgeous drum and guitar tones and amazingly-produced recordings. Probably the more noteworthy thing at this point is how Spoon's indisputable greatness doesn't really seem noteworthy. This is a band with an unbroken string of SEVEN records (Girls Can Tell through Hot Thoughts) that are all phenomenally good. While your mileage may vary on any one of them, the fact remains that any one of them can be legitimately called the band's best. I would argue that no other band but Radiohead has that kind of Midas touch, and yet it seems like no one talks about them outside the promo cycle for new releases. As far as Hot Thoughts goes, it is widely varied and top-notch throughout, even including a rare instrumental ("Us") that is not only well-executed, but haunting in its beauty.
- SOoA's latest record is named for something that, if we stretch the phrasing a bit, could be construed as "the removing of an obstacle to entry". This is apt, as any artist with 20+ releases over nearly the same number of years can be a daunting one to approach - a newcomer might understandably feel that the catalog is too deep and has no obvious path for access, and therefore never jump in. While Ben Chasny's discography as Six Organs of Admittance is very dense, Burning is an emphatically solid entry point full of meditative acoustic melodies and narrative structures that unfold like winding roads through a forest on a cool autumn evening. I found it to be a great introduction to the artist, and undoubtedly the best acoustic/folk album I heard all year.
- A "daymoon" exists in two realms, in-between the dark uncertainty of the night and the harsh brightness of the day. It is what happens when a relic of the past refuses to completely fade from view, remaining visible in a place where it shouldn't logically be. Strange Ranger are also the product of two worlds: today's hyper-referential millennial culture, and in a spiritual way they are the result of a hazy, smoke-filled Olympia dorm room circa 1996. They play to both strengths throughout the entirety of Daymoon while mining influences from bands that much of today's culture has all but forgotten (e.g. Duster, 764-HERO) in favor of other, more currently fashionable 90s alt-rock. Like the moon in daytime, this Portland outfit shouldn't logically be present in today's indie scene, and yet they are an unmistakable and vital part of it, creating collage-rock as disarming as it is inimitable.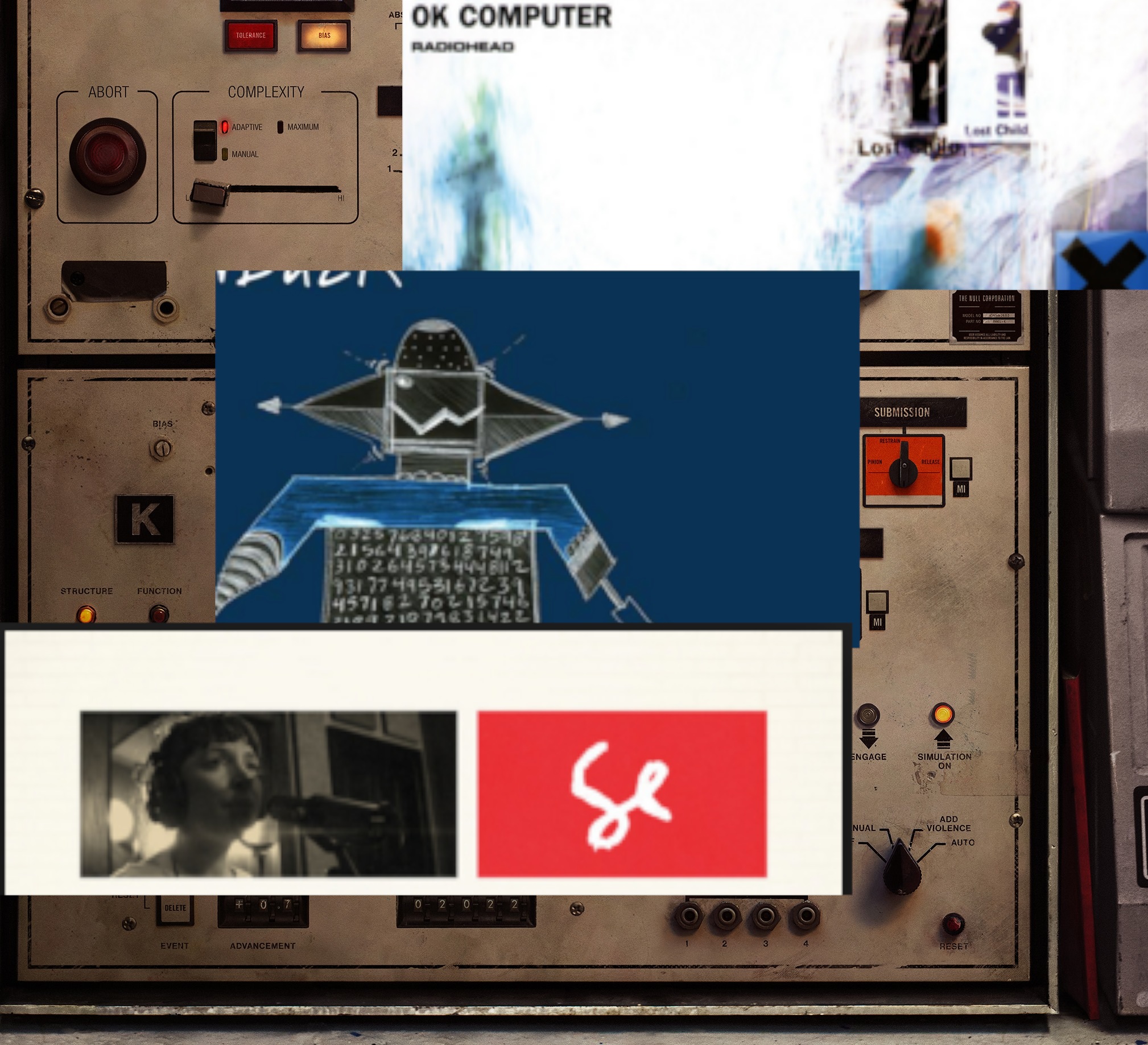 Sylvan Esso - Echo Mountain Sessions EP
Nine Inch Nails - Add Violence EP
Pinback - Some Offcell Voices (2EP, Reissue)
Radiohead - OK Computer (OKNOTOK 1997 2017 Reissue)
Lastly, I can't end the year without mentioning the return of the EP and reissue to prominence in 2017. Honestly, all these were so good in such different ways. Echo Mountain is rich and luscious with really solid pop songs, Add Violence is a dirty and menacing bastion of analog dread, Some Offcell Voices is just plain old vintage 90s indie rock that hits me right in the mouth in the way only Pinback can. And oh, by the way, Radiohead's non-album OK Computer material on OKNOTOK turned out to be good enough to stand up to their proper LPs, to the surprise of…probably no one. It felt like a banner year for releases that weren't quite albums, and I'll be looking for that trend to continue into 2018 and beyond.
Whew. That's a good place to end things I think, or at least as good as any. Sadly I don't have a really slick conclusion to this onslaught of words and thoughts, but there are other albums that either A) I enjoyed a lot but due to time and/or exposure didn't feel like I fully registered the artistic vision of, or B) I enjoyed thoroughly in ways that were satisfying but not very surprising. Here is that list, in no order at all:
King Krule - The Ooz
The National - Sleep Well Beast
Grizzly Bear - Painted Ruins
A. Savage - Thawing Dawn
Jay Som - Everybody Works
Thundercat - Drunk
Young Jesus - S/T
Caracara - Summer Megalith
Kendrick Lamar - DAMN.
Peter Silberman - Impermanence
Moses Sumney - Aromanticism
Los Campesinos! - Sick Scenes
Lastly (I'm for real this time): check out my playlist of favorite tunes from 2017 at the link below - several are mentioned above, but a lot of them are not. Good vibes are assured. Happy holidays and list-making to you, but mostly, be well. There are a lot of reasons to not be well - please appreciate the good things and feed your passions in the new year.
Thanks for reading...
nich